Send Inquiry
MIMIC Fire Panel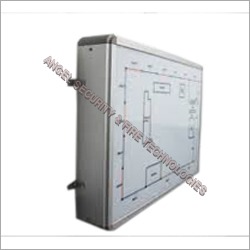 MIMIC Fire Panel
For several years, our company has been engrossed in delivering a wide gamut of MIMIC Fire Panel. The provided panel is robustly designed in line with set quality norms using the best quality components, sensors and other materials. It is mainly a gas and fire purpose panel that is used to show a geographical layout of the fire equipment installation. This MIMIC Fire Panel is equipped with an indicator for indicating the existence of fire or gas leak in oil refineries, automobile industries, etc.
Operating Countrywide
Delhi, Mumbai, Calcutta, Bangalore, Chennai, Hyderabad, Secundrabad, Pune, Nagpur, Goa, Bhopal, Indore, Gwalior, Chattisgarh, Chandigarh, Shimla, Assam, J&K, Rohtak, Jaipur, Bikaner, Modhpur, Noida, Lucknow, Patna, Jharkhand, Bhubaneshar and Agra.