Send Inquiry
RS232 Converter Card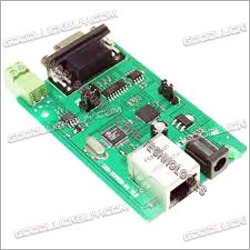 RS232 Converter Card
We provide this RS232 Converter Card that is perfect to be installed in a PCI slot for adding one RS232 serial port to any new serial device for data transfer rate up to 115.2 Kbps. It is precisely engineered with the use of high quality electronic components in accordance with set industry norms. The provided converter card is compatible with any PC that runs on linux or windows. Apart from this, the offered RS232 Converter Card is also suitable for connecting POS devices, PDAs, modems and digital cameras.
Operating Countrywide
Delhi, Mumbai, Calcutta, Bangalore, Chennai, Hyderabad, Secundrabad, Pune, Nagpur, Goa, Bhopal, Indore, Gwalior, Chattisgarh, Chandigarh, Shimla, Assam, J&K, Rohtak, Jaipur, Bikaner, Modhpur, Noida, Lucknow, Patna, Jharkhand, Bhubaneshar and Agra.